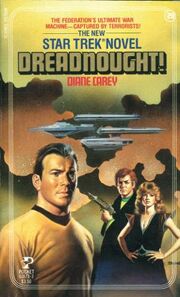 Star Empire is the Federation's most powerful new weapon – a dreadnought, first in a class of super-starships – capable of outgunning a dozen Klingon cruisers, or subduing a galaxy. On the eve of her maiden voyage, Star Empire is stolen by terrorists who demand a rendezvous with the Starship Enterprise – and with Lieutenant Piper, stationed aboard James Kirk's ship on her first training cruise. Now Piper must discover why her friends from Starfleet are among the terrorists... and why they insist the ship was stolen not to attack the Federation – but to save it!
Ad blocker interference detected!
Wikia is a free-to-use site that makes money from advertising. We have a modified experience for viewers using ad blockers

Wikia is not accessible if you've made further modifications. Remove the custom ad blocker rule(s) and the page will load as expected.