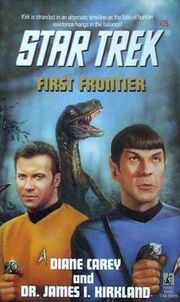 While testing a new shielding device, the USS Enterprise is caught in the middle of a
Klingon
/
Romulan
battle. The Enterprise crew rescues a lifepod, and they are confronted by a Klingon who claims to know nothing of Human existence. Convinced the Klingon is telling the truth, Captain
Kirk
hurries to Starfleet Headquarters in search of answers. But upon arriving on
Earth
, the Starship Enterprise crew finds that Earth is a vast jungle-like paradise where large, reptilian animals rule, with no signs of human life anywhere. Kirk must travel to the past in search of the key to the mystery, or face the destruction of the human race.
Ad blocker interference detected!
Wikia is a free-to-use site that makes money from advertising. We have a modified experience for viewers using ad blockers

Wikia is not accessible if you've made further modifications. Remove the custom ad blocker rule(s) and the page will load as expected.